Pity the poor guitarist: there's a lot of string-slingers out there, fretboards a-heaving with flashy licks. You really have to work hard to get noticed. And even to get in the ring, you'll be investing thousands in the proper equipment.




Perhaps that's why many fretboarders choose to spend their gear money in a way that's guaranteed to draw the spotlight. There are so many ways, after all, to upgrade a guitar (and upstage your singer): mould the the body to your whimsy, add another neck or four, paint it with gore or cover it with fur… Here are some of the most inventive and downright weird guitars around.
Rick Nielsen's five-necked guitar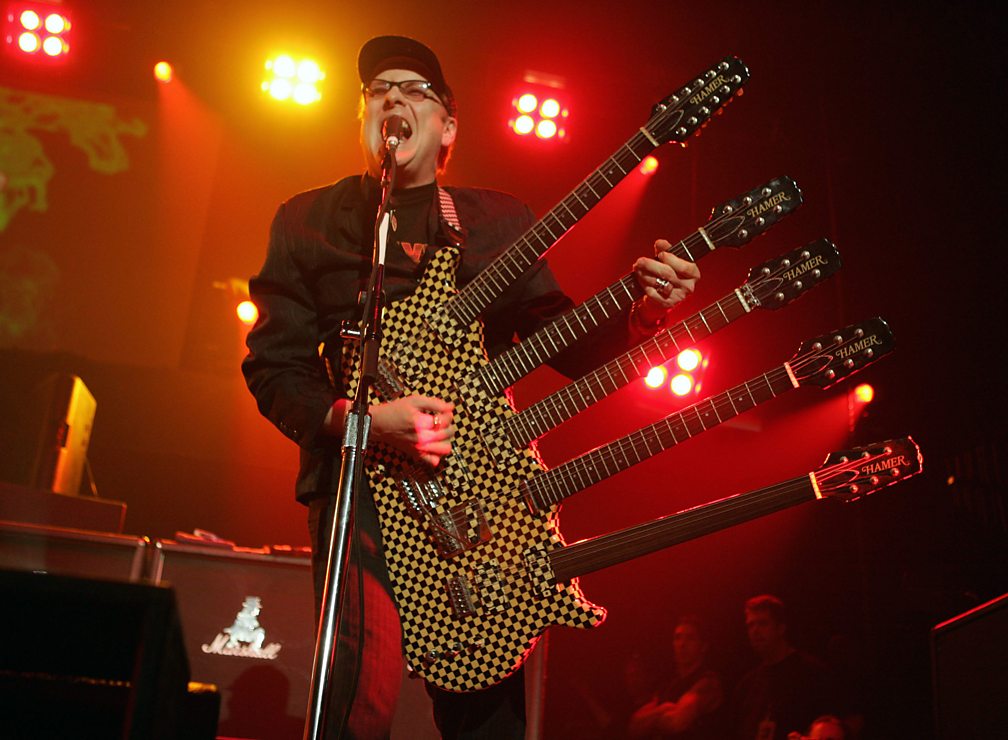 Probably one of the best-known, heaviest and most ludicrous-looking of custom guitars, the Quint Neck was built for Cheap Trick guitarist Rick Nielsen in 1981. "Back at shows in the late-70s and early-80s," he told Guitar Aficionado, "I used to stack up as many as five guitars for my guitar solo. I'd play one for a little bit, then throw it away and play the one hanging underneath it."
For a more efficient, and frankly flashier solo, Nielsen asked the manufacturer of the last guitar in the pile, Hamer, to make a beast that combined them all. "The original concept was to have a six-neck that spun like a roulette wheel, so that I could play one neck and then rotate to the next," he said. "But then I decided to go with something more conservative – five necks in a row!"
Hamer founder Frank Untermeyer recalled the wiring job as a "huge pain", adding, "Rick's out of his mind, but in a wonderful way."
Lita Ford's Monkey Train
The results of this partnership included some double-necked numbers and, most memorably, her black steam train guitar with a tiny Lita waving from the cab, which can be seen in the video for the 1991 track Playin' With Fire.




Bo Diddley's Twang Machine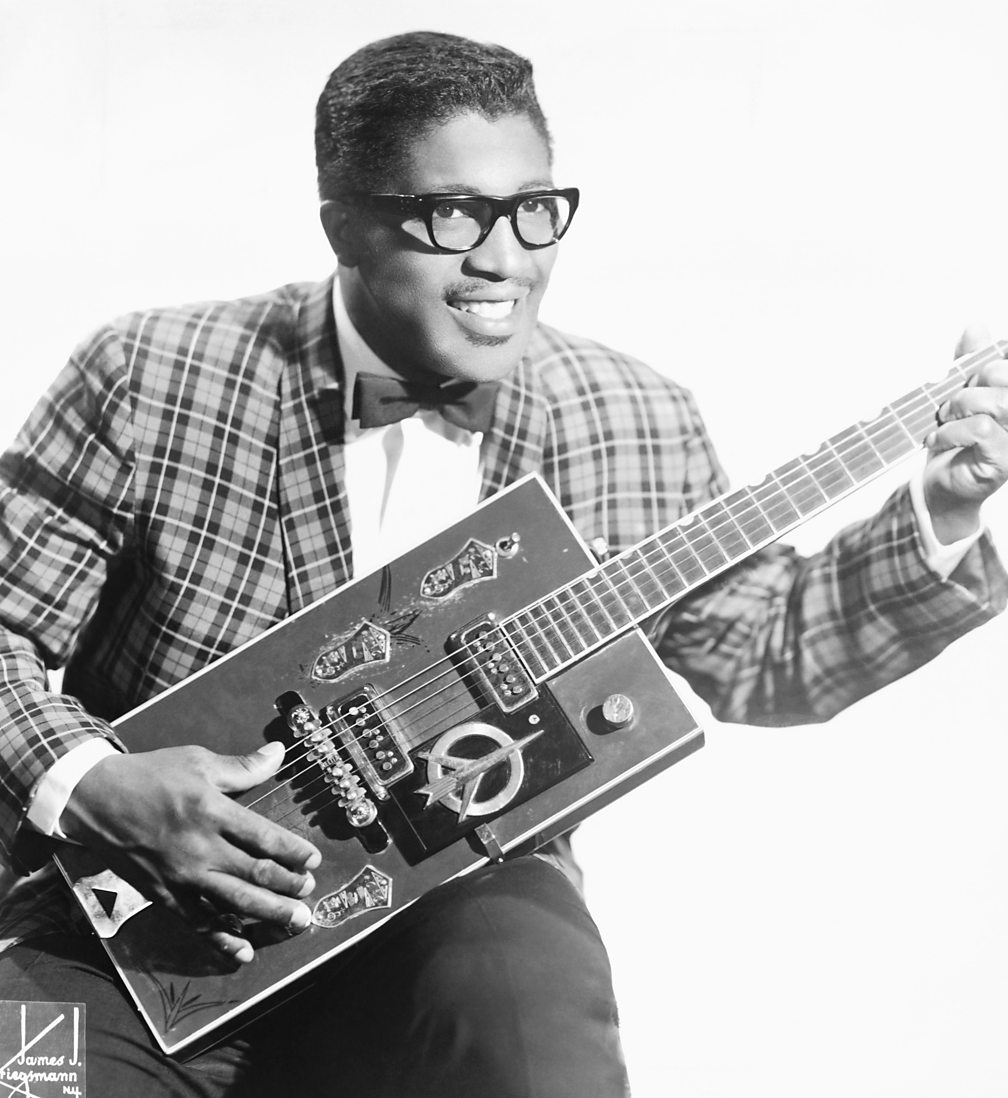 Bo Diddley, the riffing legend born Elias Bates, didn't have money to spend on fancy musical equipment when he was growing up. "I wasn't able to buy electric guitars," he told Vintage Guitar. "So I built them, and they worked pretty good."
The first thing the resourceful Bates crafted was a home-made diddley bow, a common early blues instrument mate often made from a cigar box. His later guitar design, using various inventive bits and bobs in its construction (its pickup, he said, was "part of a Victrola record player where the needle went in"), retained that rectangular body, and Bates's stage name also took inspiration from his diddley bow.
The original Twang Machine was later stolen but, by that point, he'd become such a rock 'n' roll hero that guitar manufacturers were only too happy to help him with a replacement. In 1958, Gretsch built him a new custom Twang Machine. According to Diddley, it had a smaller body that gave him the much-needed freedom to move around onstage while performing: he said that he'd had the idea for the design after accidentally thwacking himself in the groin with a different guitar while jumping around.
Zakk Wylde's Graveyard Disciple
One musician who was extremely taken with Diddley's ingenious eye for design was Black Label Society founder and 
Ozzy Osbourne
 guitarist 
Zakk Wylde
. "I remember talking about the Bo Diddley guitar and the Bill-Bo, 
Billy Gibbons
's guitar, and I was just going, 'These guitars are so god-awful ugly!' I just dug 'em," he told 
I Heart Guitar
.
The Twang Machine was such an inspiration on Wylde's custom-built Graveyard Disciple that he nicknamed it the "Bo Deadly": its coffin-shaped design certainly looks like a macabre take on Diddley's 1958 axe, although Wylde originally had the idea when his merchandising company sent him a coffin full of sweets. "Inside was a bunch of lollipops from my merch company with all the song titles: Genocide Junkies, Graveyard Disciples, House of Doom, Death March written on them. I was just like, 'Dude, you know what'd be cool? To put a guitar neck on it.' So Epiphone went out and made it for me, and I was like, 'Dude, this thing's slamming.'"
Gene Simmons's Axe Bass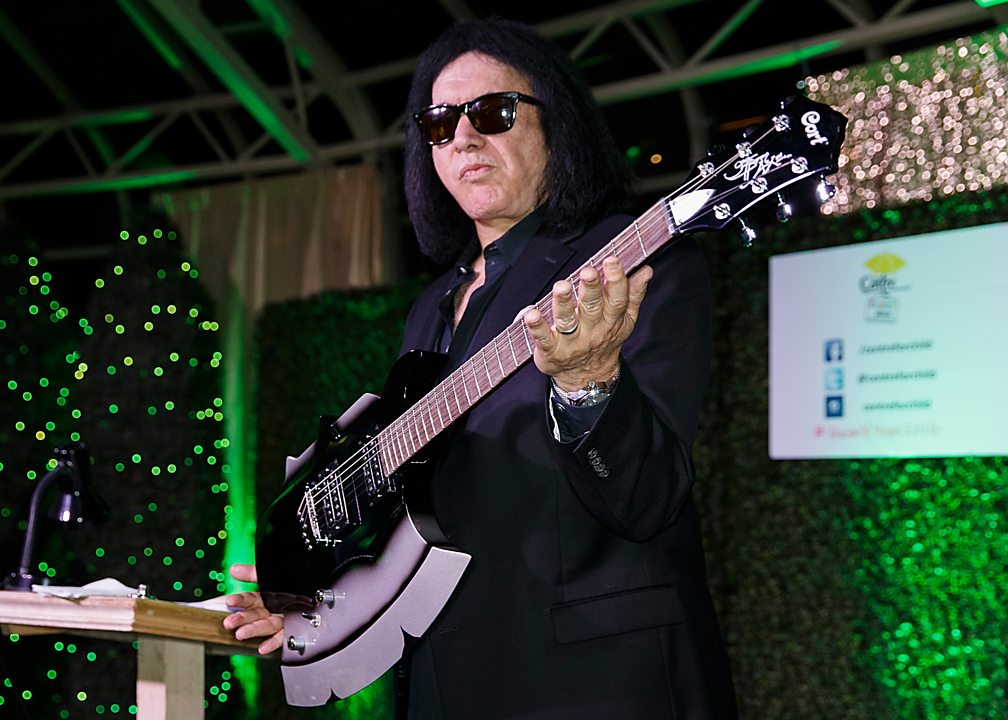 Simmons's onstage persona with KISS is officially known as the Demon. For a bass- playing fiend, your common-or-garden mass-produced guitar is not going to cut it, and cutting was just the look Simmons went for when dreaming up his very literal axe, designed by luthier Steve Carr in 1978. For Simmons, it showed how the bass should be handled – like a weapon.




Andrew W.K.'s taco guitar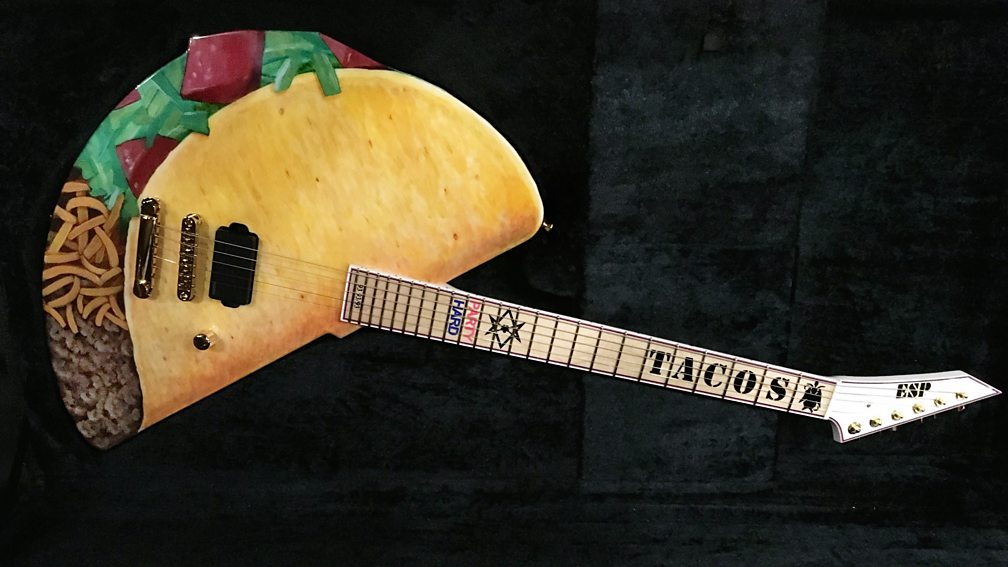 Photo: Mario Dane
Few musicians have committed to big-hearted, dude-ish wackiness the way Andrew W.K. has, and as such it should probably not surprise you to learn that he is the designer of not one, but two custom guitars based on common party foodstuffs. First, in 2012, came his pizza guitar, which came with a high-end spec featuring extra-spicy garlic marinara sauce, double mozzarella cheese, pepperoni, black olives, green peppers, mushrooms and jalapeno peppers.
This year, he unveiled his second course: the taco guitar, which features a beef taco on the front, and an eyeball on the back. "I started pondering, what's another food that's as party as pizza?," said Andrew in a statement. "When it comes to edible celebration, tacos are partier than almost anything else. Pizza and tacos are among the partiest foods on the planet, and I realised that since I had paid musical tribute to pizza, I now had to pay musical tribute to tacos. I was destined to make a taco shaped guitar – it was inevitable."
ZZ Top's Spinning Furs
George Lynch's Skull N Bones