By Kevin O'Marah
Last November, Marc Engel, Unilever's Chief Supply Chain Officer, told me about Spotify's brilliant algorithms for finding and serving music to listeners. I immediately signed up for the premium service. Since then I have marveled at the superior experience and great value delivered by Spotify for all of my listening pleasure.
This week, Spotify's stock opened for public trading on the New York Stock Exchange with a market capitalization of $27 billion. Founder and CEO Daniel Ek is a contrarian in many ways, including his stated mission to give "a million creative artists the opportunity to live off their art."
His grasp of today's empowered consumer behavior and the paradox of a producer community (musicians) that cannot enforce scarcity is what makes Spotify work. As Ek says of his approach: "Fans wanted all the world's music for free, immediately. So what we did was build a better experience."
For anyone struggling with demanding customers and declining pricing power, Spotify has demonstrated a model that shows one way forward. Ek and his team have figured out how to monetize intellectual property fairly and with minimal volatility in its revenue streams. Perhaps most important, however, Spotify has proved that even in the absence of scarcity, pricing need not collapse to zero.
Digital Disruption Lessons From the Music Business
Remember Napster? It opened a Pandora's Box of new business model challenges because of the ease with which customers could pirate products they had been accustomed to buying in a traditional box. Whether that box was a CD, cassette or album, the governing mechanism for monetizing IP was embedding it in a physical asset. Digital disruption blew all that up and recorded music sales began a 15-year slide, slashing overall revenue by more than 40%.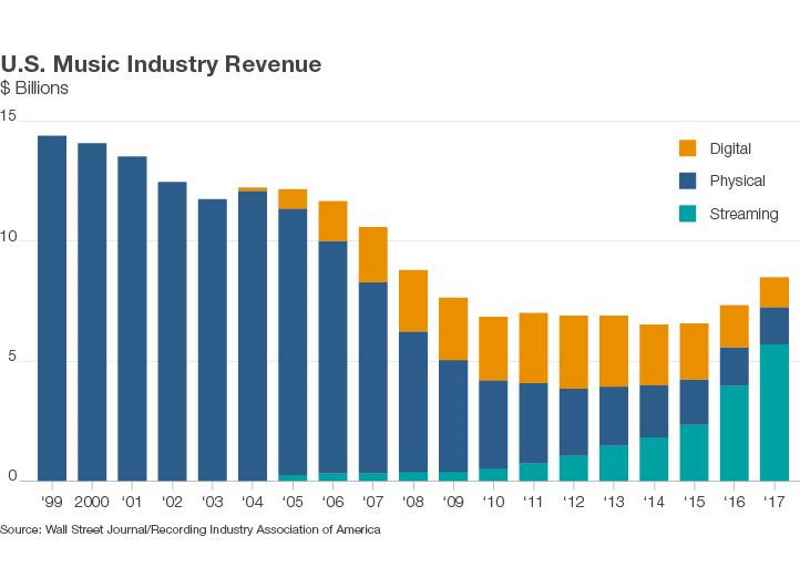 U.S. Music Industry Revenue
The turnaround came in 2015 and by many accounts was led by Spotify, whose music streaming service not only grew like gangbusters, but also shifted steadily away from the aggravating and simple-minded advertising-supported "free" model.
Unilever plc

4,014.00p

 

-0.41%

Spotify Technology S A
$147.92
 

2.87%

Tesla Inc
$299.3
 

-1.95%
Prices delayed by at least 15 minutes
Switch to live prices
Spotify now has over 75 million paid premium subscribers who are buying what may be the prototype for future content-intensive businesses. It boils down to paying for expertise that is encoded in algorithms, which control the flow of content into the consumer's brain in pleasing ways.
Music's painful passage through the digital knothole came early for mechanical reasons, including the ease with which product could be copied and distributed, plus the low cost and ubiquity of devices for listening to it. Music has a big head start in dealing with digital. Let's learn from it.
Product as a Service
For supply chain strategists the lessons aren't necessarily obvious, or even applicable without major changes in underlying business models. The core of it is developing a product architecture that facilitates electronic, and preferably cloud-based, distribution of continuously changing performance in the physical world.
In aircraft engines the concept is known as "power by the hour". In mobile phones we know it as apps. It is both sensible and yet somewhat counterintuitive.
Two weeks ago Cisco Systems co-hosted with SCM World an excellent event focused on the circular economy. At one level the discussion dealt with material re-use and sustainability issues. At another, however, supply chain executives from businesses as diverse as pharmaceuticals, consumer electronics, aerospace and white goods kept circling back to product-as-a-service business models.
In principle, the supply chain that enables this shift produces high-quality, long-lasting physical assets that have extensive internet of things-equipped systems for actuating job-specific mechanical work at the point of consumption. An example might be smart washing machines that clean better with less water and energy consumption. The business could make money on lifetime use, which depends on subscriptions to an endless stream of tuning algorithms arriving via WiFi.
The algorithms are the content and, just as with Spotify, consumers pay for continuous, personalized application of these algorithms to the real world. Industrial companies such as Johnson Controls sell this value proposition today, as does electric car maker Tesla. It promises to improve user experience and smooth revenue streams.
Spotify is training consumers to pay a monthly subscription for expertise. It is also demonstrating that money can be made without relying on scarcity to support high prices.
This article was written by Kevin O'Marah from Forbes and was legally licensed through the NewsCred publisher network. Please direct all licensing questions to legal@newscred.com.